You can be engrossed in a book, wrapped up in a show, or absorbed in a game. Some of you may even be writers, creators of your own stories. But regardless the medium, no matter how engaged you are, you still are not physically part of the story….. Until now.
REAL ESCAPE GAME™ from Japan is a unique and interactive live puzzle event where teams solve mysteries and clues within a time limit. The beauty of the game is that you are actually physically inside the story. You and your fellow players are heroes who must escape from a place filled with challenging puzzles and obstacles. The objective is to find and solve the mystery in order to escape within the time allotted. Players are encouraged to work in teams to crack the puzzles more efficiently, and a Game Master directs gameplay to add a touch of drama.
If you are a person who likes answering riddles, solving complex puzzles, or just generally clever and looking for a challenge, this event is for you.
Escape from The Time Travel Lab
Activate the time machine!
---
---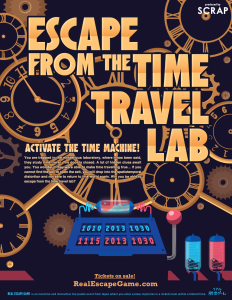 ---
You are trapped in the mysterious laboratory, where it has been said, they study time travel. The door is closed. A lot of hidden clues await you. You wonder if they were able to make time travelling true… If you cannot find the key to open the exit, you will drop into the spatiotemporal distortion and not able to return to this world again. Will you be able to escape from the time travel lab?
---
Escape from the Magic Show
Something about this performance feels wrong…
---
---
---
You watch the magician on stage weave bizarre magic, and realize your hands are tied to the people besides you! A packet of puzzles and a peculiar briefcase sit atop your table…can you escape this sinister show?
What is this event exactly?
Real Escape Game is a live, puzzle-oriented entertainment event! It is unlike an escape room in that there are many teams, each with six people, all sharing one room. You have 60 minutes to find the clues, solve the puzzles, and escape not the physical room but the situation instead. Real Escape Games are held in all sorts of fun venues with tons of different themes. Each game can only be played once – don't miss these limited engagements!
---
Real Zero Escape : Trust on Trial
Divided and doubtful, can your faith in each other overcome this test?
---
---
---
An all-new Real Escape Room based on the Zero Escape video game series is coming THIS APRIL to our Los Angeles location in Little Tokyo. We have teamed up with Aksys Games to bring the world of the games to life in our first ever licensed escape room for the US.
Zero Escape
Zero Escape is a video game series that cleverly combines the escape room and visual novel genres to create suspense-filled stories filled with twists that you would never expect. The game series centers around nine kidnapped individuals forced to play a deadly game to escape. For more information on the Zero Escape series, please visit http://zero-escape.com/
Stay tuned for more information and updates about Real Zero Escape: Trust on Trial.
---
What people say

---
Having done over 25 escape games already, Real Escape Game "Escape from the Time Travel Lab" easily takes the top spot on my most favorite escape game of all time! I can't give anything away but I gotta say, it was the most creative and well-designed room I have ever gone to. – Yelp review Los Angeles
---
SO. MUCH. FUN.
I've done a few of these "escape" rooms in SF & LA and at this location I did "Escape from the Time Travel Lab." This was hands down the best one I've done — even though we did NOT escape! Yeah, it was that awesome of an experience at this location/company. Obviously, I'm not going to give away tactics or clues, but what was interesting to note was that there was a little girl (10-12 year old?) who was part of our team. And she figured out a clue before the adults did. But no one listened to her and we spent 20 minutes trying to solve the very clue she figured out all by herself. Lesson: DON'T IGNORE ANYONE, regardless of age, gender, ethnicity, english-speaking level, etc. – Yelp review San Francisco
---
Escape? Fail. Awesome Date Night? Success! Was getting together with some other couples and wanted to avoid the typical dinner/movie scenario…Real Escape Game to the rescue!! We played the Puzzle Room and were very impressed with the very fun (challenging) puzzles. While we didn't escape, I definitely look forward to playing Real Escape Game's other rooms — they are definitely a cut above the rest! – Yelp review San Francisco
---
Aaaaaaawwwweeesssooommmeee. Seriously- I played the 'time travel lab' about 3 days ago. I'm still talking about it as if it just happened. Memorable, unique, and like nothing else I've experienced. -Yelp review Los Angels
---
The fastest 90 minutes ever!  So close! We did Escape from the Time Travel Lab as a teambuilding event. It was the fastest 90 minutes I ever experienced! We had a great time and it was such a great idea for a teambuilding event. –Yelp review San Francisco
---
Can't recommend this enough, solid puzzles,  fun theme, and  the effort and care that went into this room is top notch . This is the real deal. – Yelp customer review Los Angeles
---
Having done over 25 escape games already, Real Escape Game "Escape from the Time Travel Lab" easily takes the top spot on my most favorite escape game of all time! I can't give anything away but I gotta say, it was the most creative and well-designed room I have ever gone to. – Yelp review Los Angeles
---
Do yourselves a favor and grab 10 of your closest friends and sign up. You won't regret it! – Yelp review Los Angeles
---
What is REG? LA