TOKYO'S NEW ENTERTAINMENT FACILITY: 5+1 SECRET TIPS FOR KABUKICHO TOWER
ENJOY SHINJUKU'S NIGHTLIFE FEATURING LIVE DJS, UNIQUE CRANE MACHINES, COLORFUL NIGHT VIEWS, AND A MAGICAL COOKING SCHOOL?!
BY SCRAP Global Team
The area of Shinjuku in Tokyo is extremely popular for its vibrant nightlife, iconic bars, and seemingly endless entertainment opportunities.
And the city's latest addition brings all of that and more: Kabukicho Tower only opened last Spring and it has already become a landmark of the "sleepless city".
The Tower is the tallest building in the area, and a massive entertainment complex, hosting a premium theater, a concert hall, a food court, arcades, hotels, and more.
Here top 5 secret insider tips to get the most out of your visit to Kabukicho's trendiest building. And if you are still looking for something exciting after your visit to the tower, keep reading to discover how you can become a magical chef…or at least try to!
1. Catch DJ Acts 
If you go to Kabukicho's tower 2nd floor, you will find a food court where you can dine immersed in Kabukicho's iconic aesthetic. The area also has plenty of photo opportunities if you want to snap a picture between bites. 
Not only that, but you can also catch a live DJ session while you are there, making the experience extra in the best way possible.
But the DJ on the 2nd floor isn't the only one performing inside the building.
If you'll venture on the 3rd floor, and pass the crane games, you will find a bar area with Virtual DJs. They here are often animated characters powered by AI technology such as DJ Pacman, and you can enjoy remixes of catchy Japanese beats while drinking original cocktails and non-alcoholic mocktails.
2. Unique Crane Machine
Did you really visit Shinjuku if you didn't try to catch an adorable giant plushie with a giant claw? On the 3rd floor, you can find Gashapon, crane machines, arcade games, and anime-themed prize draws.
And if you are tired of regular machines, you should check out Gashapon Odyssey, a giant Gashapon machine with a wide screen and steering wheel that can be played like a video game.
3. Interactive entertainment
If you are looking for something more thrilling and immersive than the arcade, the 4th floor might have something for you: The Tokyo Matrix.
It's an experience that combines physical activity and puzzle-solving skills in a challenging game.
Using a mix of technology, riddles, and a large venue, players will experience being trapped in a video game dungeon and must rely on themselves and their teammates to escape.
Be aware that the game is designed to be *extremely* difficult and impossible to beat in one try. Also, your physical strength plays an important role, so we recommend you go only if you are confident in your physical abilities.
Luckily, if you want to experience something more inclusive and beatable in one go, you can head to Tokyo Mystery Circus, the Theme park of Mystery located just outside of Kabukicho Tower. There are plenty of games in English, all different from each other. You'll definitely find something for you whether you're a beginner or a puzzle enthusiast! Click here to learn more: https://mysterycircus.jp/en/events
4. Premiere souvenir shop (Post Credit)
When exploring Kabukicho Tower, most people will stop at the 4th Floor, but if you venture to the 9th Floor, you'll gain access to a secret souvenir shop. It's the theater gift shop but it's open even to those who don't carry a movie ticket and it sells unique merchandise from the movies that are currently showing. Some of this merch is exclusive to Kabukicho, so it is definitely worth a visit!
5. Beautiful views
Everyone who visits Tokyo knows how breathtaking the view of the city is. Most of the time you will have to pay a ticket to go up buildings and enjoy the view, but if you reach Kabukicho Tower's 17th and 18th Floors you can admire Shinjuku and Tokyo completely for free. The view is magnificent especially at night when Shinjuku shines with bright neon colors.
Don't miss the lobby next to the hotel for a quiet space to sit and enjoy the view!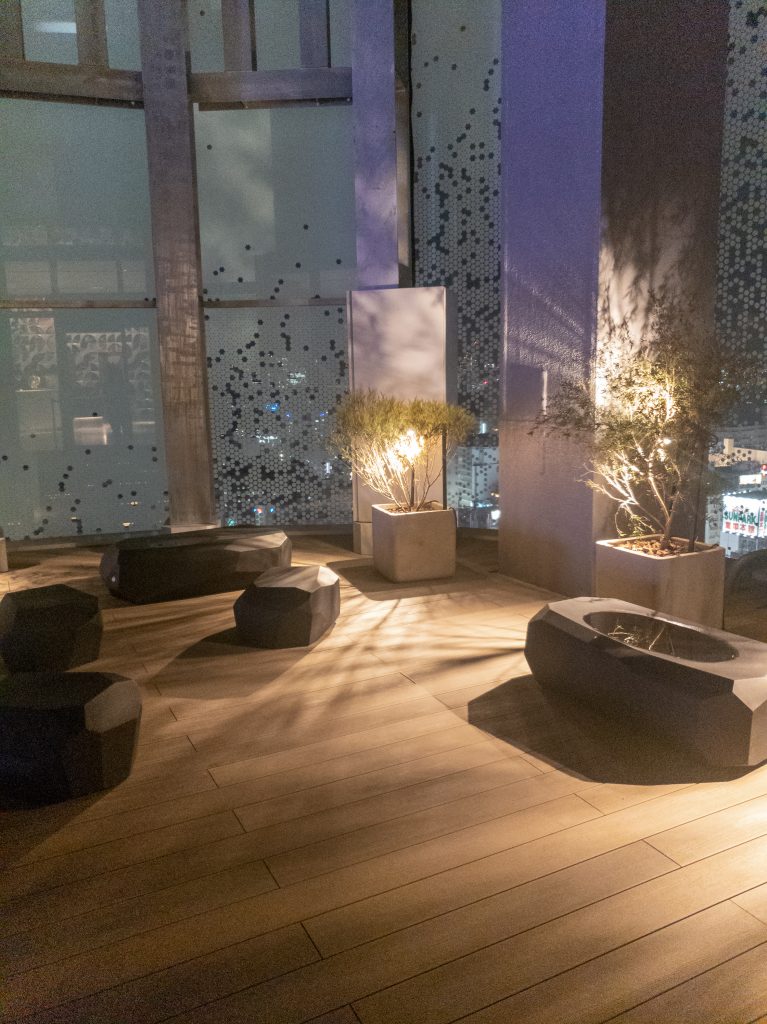 BONUS: Serve up otherworldly dishes with your magic!
Kabukicho Tower is a great place to experience the colorful Kabukicho atmosphere and see what Shinjuku has to offer all in one place, but if you are looking for an even more immersive and unique experience, you should definitely try out SCRAP's latest game –
The Magical Cauldron: The Culinary Academy's Final Exam.
Just head to Tokyo Mystery Circus, right next to the Tower, and you'll be taken into a world of magic, puzzles, and cooking!
The game features projection mapping technology to create beautiful interactive images that will make you feel like a true magical student.
This game is great for groups of friends and families too! There are clever puzzles that will challenge even the most seasoned players and moments where physical dexterity and cooperation will save you all from an undesirable end…
Check the official website for all the info: official webiste
If you came to Tokyo to experience the latest and most unique events, this game is a must-see that will leave you smiling in amusement from start to finish!
Blog Post 12