HAUNTED HOUSE MEETS ESCAPE GAME IN THE ULTIMATE CHILLING EXPERIENCE
TWO NEW SCRAP EVENTS ARE AVAILABLE! GO BEYOND THE HORROR AND SOLVE THE MISSIONS BEFORE IT'S TOO LATE
BY SCRAP Global Team
Welcome back, blog readers!

One of the most anticipated times for Japanese people, the Golden Week, just ended. This special time of the year is a series of four national holidays that take place within one week from the end of April to the beginning of May. It's the perfect chance to take a break and relax. Japanese people know that once the Golden Week is over, the weather will become increasingly warmer, leading to the incredibly humid Japanese summer that everyone knows and fears.

But did you know that, in Japan, hot weather and fear go side by side?
In fact, one of the most popular summertime activities here is telling each other scary stories and visiting "haunted houses."
It is said that the chills you feel from the fear help combat one's sweat and stickiness from the warm weather.

We at SCRAP can't confirm whether or not this trick will work, but we can assure you that you'll have no time to think about the hot weather when you join our two new events available now in English in Tokyo!

Due to high demand and multiple requests, we decided to localize not only one, but TWO of our scariest content for all you adrenaline seekers out there.

Not only will you find yourself trapped and in need to escape within a time limit, but you'll also have to face evil, otherworldly entities lurking around the corner, ready to get you at any moment…
The clock ticking will not be your only enemy in these two games, where you'll soon realize that escaping has never been more important!
Will you have what it takes to face the challenge?

Find out by joining "Escape from the Haunted Manor" and "SADAKO and the Cursed Video," two events created in collaboration with renowned haunted house producer Hirofumi Gomi, a pioneer in producing and designing haunted houses as immersive and interactive events. What sets his haunted houses apart from others is that the audience is given a "mission," making them the protagonist of the story and taking the adrenaline rush to the next level.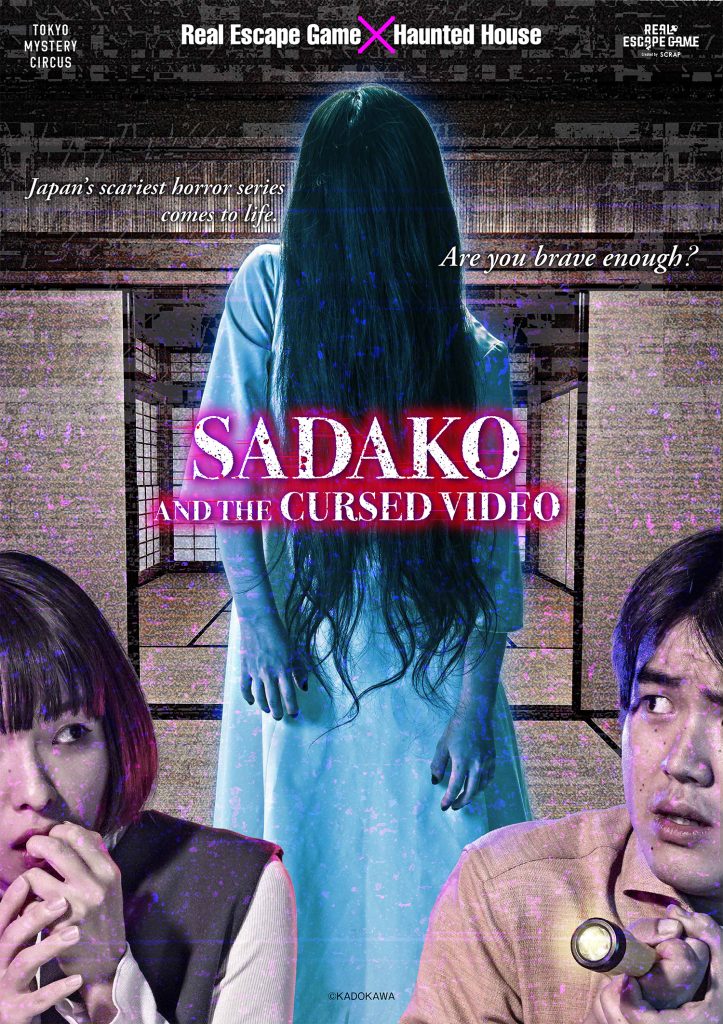 SADAKO and the Cursed Video Main Visual
Escape from the Haunted Manor Main Visual
In an escape room, you are trapped inside a room with many puzzles to solve in order to get out, while in a haunted house, you venture into a frightful space with a deathly entity lurking in the shadows. 
In our new events, you can experience the best of both worlds and challenge yourself on multiple levels.
"Escape from the Haunted Manor" previously ran in Japanese in 2014, marking the start of the collaboration between escape games and haunted houses. This game was extremely popular and we decided it was only fair to revive it, this time in a new and improved format.
"SADAKO and the Cursed Video" is the newest experience in collaboration with Hirofumi Gomi. If you try both events, you'll get to see where this series started and how it has evolved until today!
If you are curious to know what the games are like from someone who has had the chance to try them out, here are some spoiler-free player reviews:
Escape from the Haunted Manor: I was really curious about this game that started SCRAP horror events, and I was not disappointed. The scare factor is definitely one of the highest I've ever experienced, and even the most unfazed person in our group was screaming a lot at some point during the game. I tried it with a big group and it was so fun seeing everyone's reactions to the many things that were happening. The puzzles were well-balanced and satisfying, and they blended so well with the horror atmosphere. One thing I particularly enjoyed was exploring the manor and the feeling that something unexpected could happen every time a new drawer opened or a new room was discovered. It is an experience I won't forget for sure!
SADAKO and the Cursed Video: I've experienced a handful of haunted houses in Japan before, and I can say that this experience definitely lives up to its expectations! The number of puzzles and scares was very well-balanced. You'll get a good mix of both. The realistic decor and horror elements really set the mood. It's different from a regular haunted house where you're just passively walking through a set and taking in the sights. It's a unique experience where you actually have to carefully read the information provided to you in the form of a storyline and complete tasks to move forward, which makes it highly engaging and interactive.
So there you have it–the ultimate way to fight off Tokyo's heat and experience a thrill like none other.
Don't miss this chance to experience Japanese horror as the main character!
For more information, visit the official websites: Escape from the Haunted Manor, SADAKO and the Cursed Video.
Blog Post 10